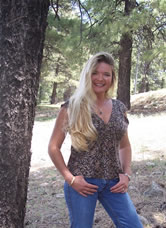 Growing up art was always my sanctuary,
an area in which I excelled. After moving to California
in the late 80's my passion for art continued.
Everything really started moving when I began
fusing my drawing with various metals. Being the
tomboy/cowgirl type, durability was always a challenge
when choosing a medium. Metal, with its diversity in texture and color coupled with the translucent patinas
I paint with, is perfect.
As the position of lighting changes so does the
hue and intensity of the colors, giving incredible depth
that is unique to each piece. I truly appreciate that my
artwork has allowed me the opportunity to meet such a
variety of fascinating and incredible people. Something I
hope to continue for many more years.
Leslie at home in Ramona

Leslie's great-grandfather
Joao Dias Souza (Johnny Waimea)
A fourth generation Hawaii resident I was born
and raised on the island of Oahu. A descendent of Portuguese
immigrants who settled on the big island, becoming
plantation workers & Paniolos (Hawaii Cowboys).
A life of hard work, getting dirty and an appreciation
for animals and the outdoors was their legacy to me.
Aloha,


760-789-6668
leslie@silhouwest.com